Events – join us in celebrating local food!

Harvest Highlight Workshop Series, 2022-23
JOIN US for an fun & informative series of workshops with local farmers, chefs, nutritionists and herbalists! Each local food enthusiast will share their extensive knowledge. Designed to offer both creative education and place focus on a monthly regional crop, this class and demonstration will inspire and inform. Learn more about Sustainable CAPE's Harvester Highlight Soup Kitchen Donation Program, designed to coordinate with this Harvester Highlight Workshops at libraries! For more information please contact the program manager at sarah@sustainablecape.org.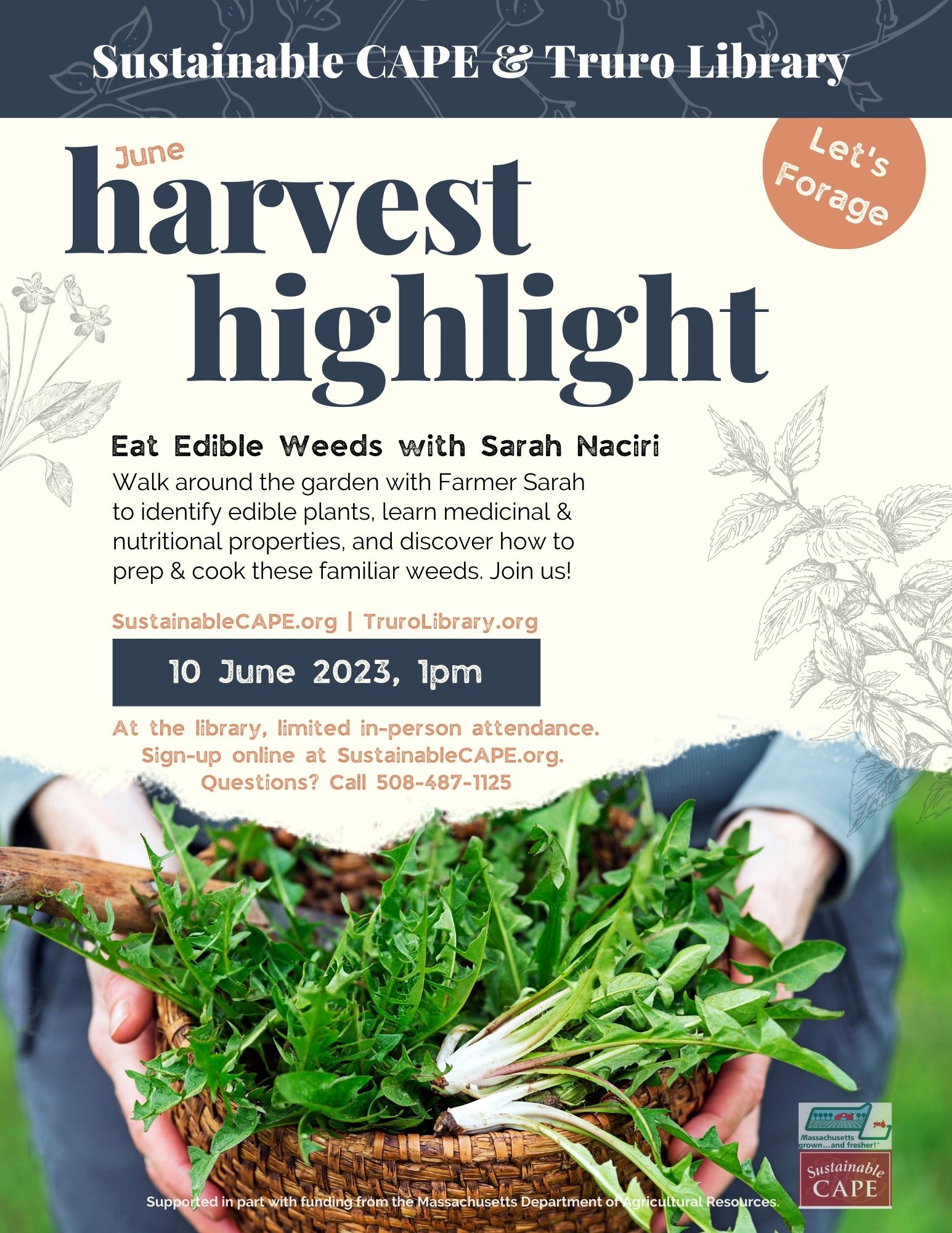 Eat Edible Weeds with Sarah Naciri
June 10, 2023, 1:00 PM, at the Truro Public Library
Come take a walk around the Truro Library grounds and Sustainable CAPE's Children's Community Garden with Farmer Sarah to forage for a variety of edible & medicinal plants. Sarah will teach you how to identify, discuss the medicinal & nutritional properties, and explain how to prepare & cook the familiar weeds.  She'll also demo how to make delicious seasonal herb salads & dressings!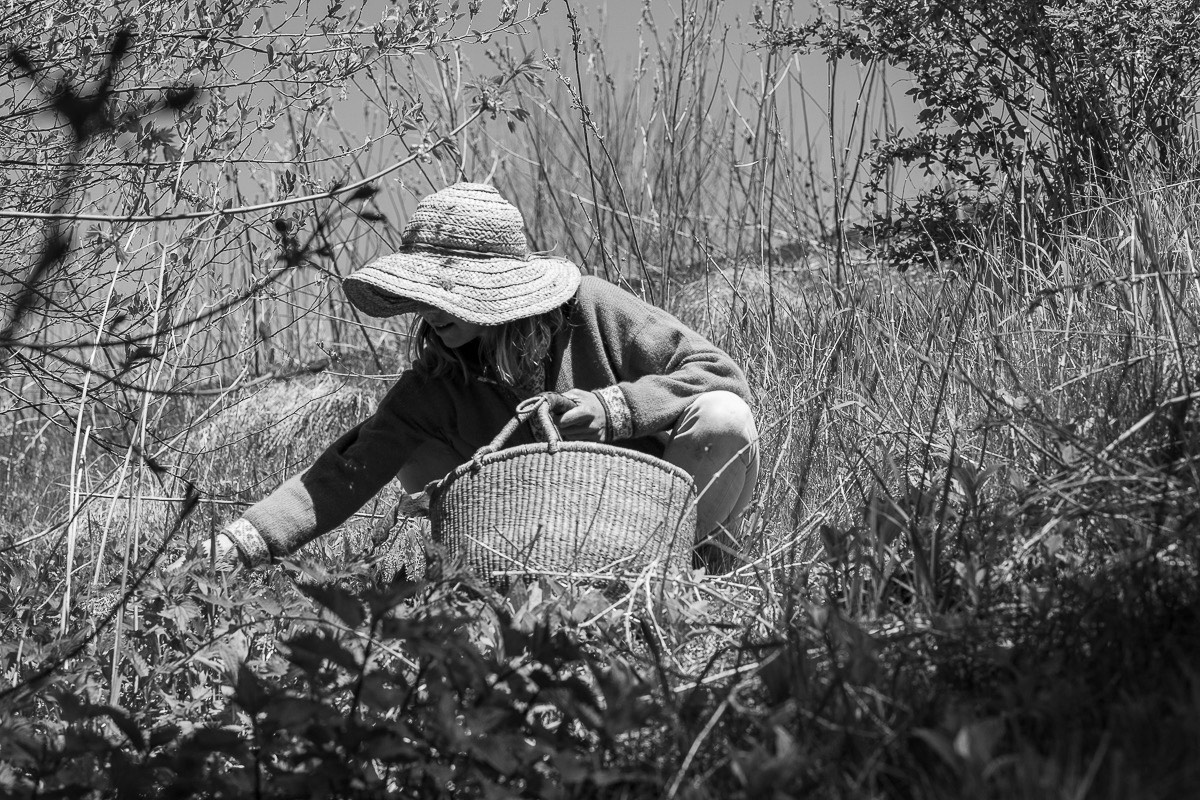 OUR PRESENTER, Sarah Naciri is a local herbalist, educator, forager and farmer living in North Truro.  Being out in nature and wildcrafting plants, shrooms and lichen with thoughtfulness and care is her greatest passion.  Sarah has been studying herbalism and making plant medicine for nearly 20 years, and during the past five or so years, she has been happily teaching classes and leading foraging walks in our community.  In addition to her vocation as an herbalist, Sarah loves working with Sustainable CAPE as the farmer/educator of the Children's Community Garden, as well as Program Manager of a monthly fruit + veggie CSA+ and this Harvest Highlight Workshop Series.  You can find Sarah and her Wild Blossoms Apothecary selling potent medicinal products at the Wellfleet, Truro, and Provincetown Farmers' Markets during the summer season.  She is often accompanied by her little foragers, her seven-year old daughter Leela and two-year old son Ahkiel.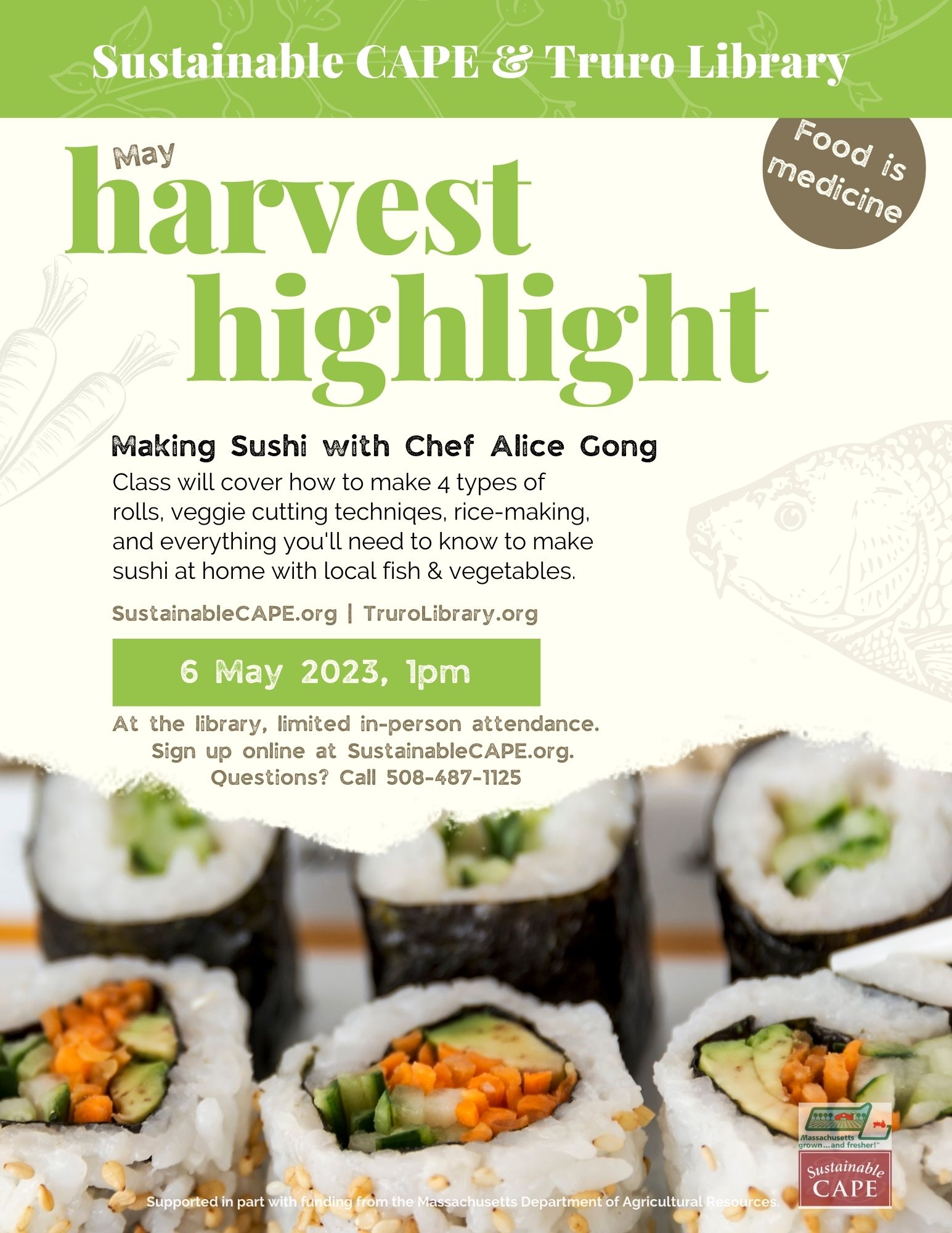 Making Sushi with Chef Alice Gong
May 6, 2023, 1:00 PM, at the Truro Public Library
Come learn how to make sushi! Chef Alice Gong will teach us how to make 4 types of rolls, properly wash & make sushi rice; demonstrate various veggie cutting techniques; discuss delicious sauces and where to access local proteins & produce; and direct us on where to purchase best sushi-making supplies and ingredients.  Don't miss this fun & instructional learning experience.   
OUR PRESENTER, Alice Gong, is a forager & chef with many unique talents. She is the Program Director for Twenty Summers and works at the Provincetown Farmers' Market. Alice has over a decade of experience making sushi; being a sushi chef during the summer months is what brought her to the Outer Cape! Born in Beijing, Alice now resides in Truro.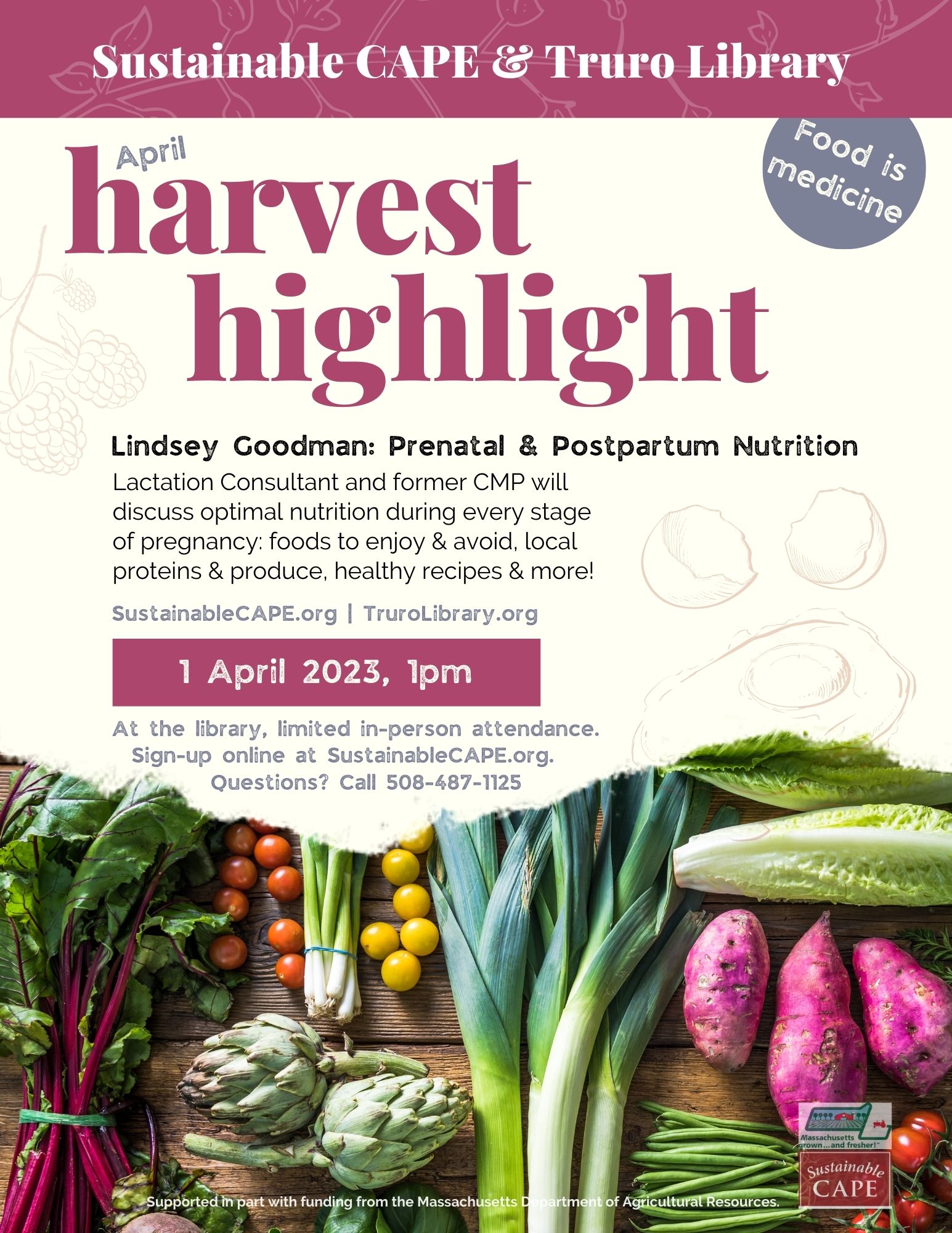 Prenatal & Postpartum Nutrition with Lindsey Goodman, IBCLC & former CPM
April 1, 2023, 1:00 PM, at the Truro Public Library
Join Lactation Consultant and former Certified Professional Midwife, Lindsey Goodman of Warm Welcome, for an informative class focused on optimal nutrition during every stage of pregnancy.  Class will cover: foods to enjoy & avoid; recipes for nutrient-rich meals & meal-storage tips; where to access local proteins & produce. Come learn about self-care in pregnancy and preparing your nest with nutritious foods to sustain and nurture you during new parenthood. Partners welcome!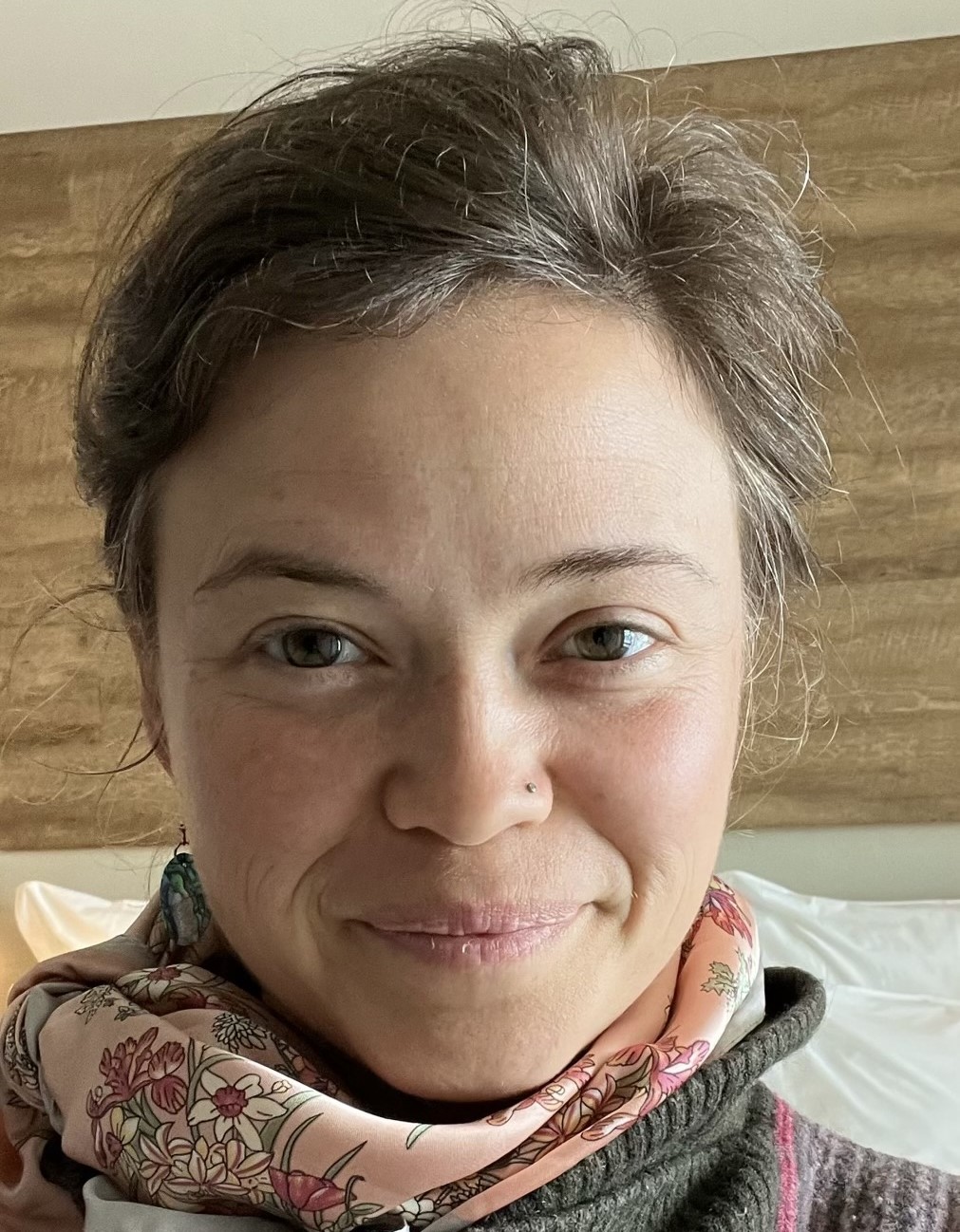 OUR PRESENTER, Lindsey Goodman of Warm Welcome, has 15 years of experience in counseling as a parenting coach, a birth and postpartum doula, and a home birth Midwife (CPM) as well as supporting breast/chestfeeding families as a Lactation Consultant (IBCLC). Lindsey is married to a wonderful guy and is filled with gratitude for their two sweet, energetic boys. She loves time with friends & family, cooking nutritious foods, being in nature, yoga and travel.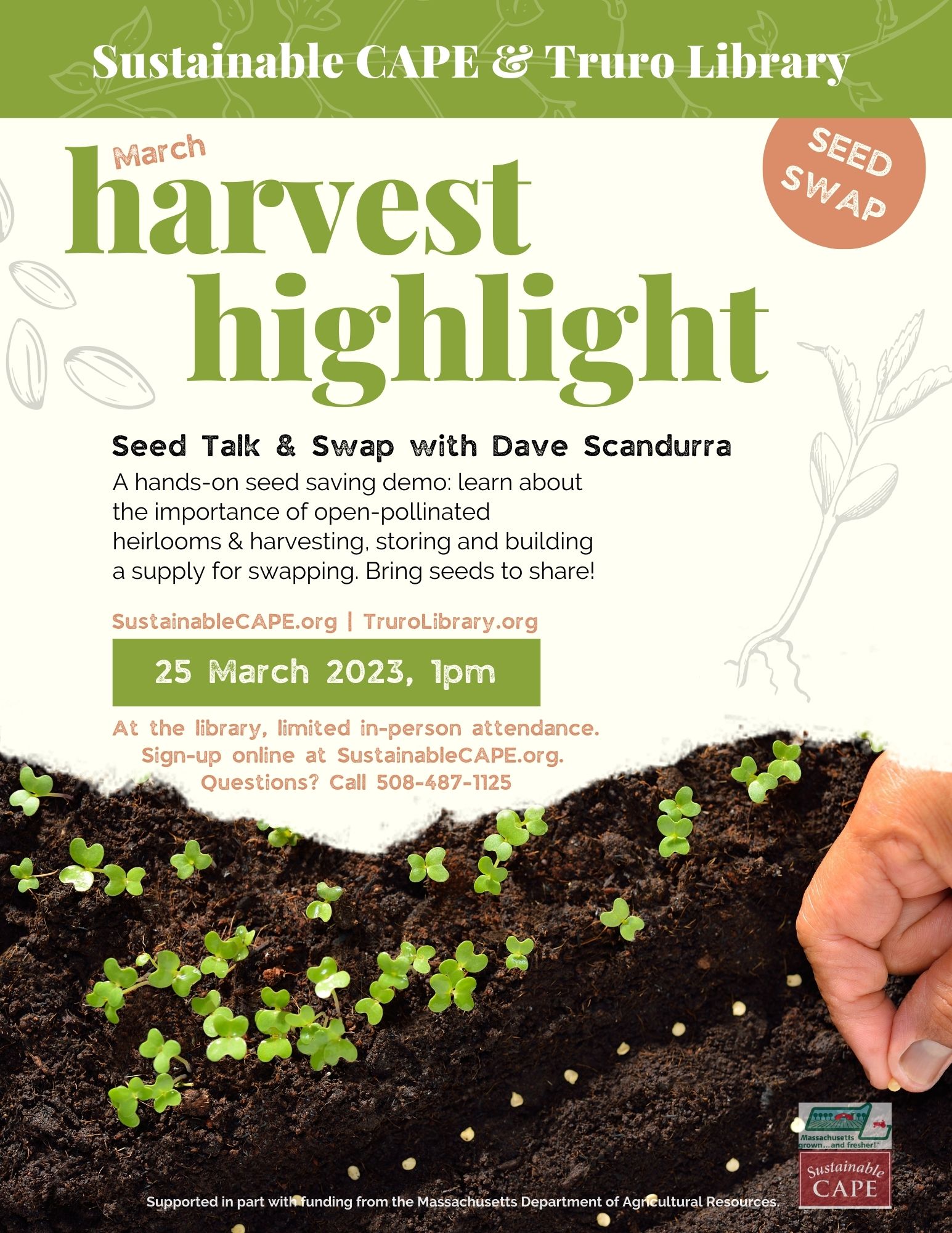 Seed Talk & Swap with Dave Scandurra
March 25, 2023, 1:00 PM, at the Truro Public Library
Come learn about the importance of open-pollinated heirlooms, how to start & save seeds, and how to harvest, process and store seeds to build your own supply.  A collective seed swap will follow the presentation, so please bring seeds to share!
OUR PRESENTER, Dave Scandurra, started
Edible
 Landscapes of Cape Cod 11 years ago with the simple mission of helping people grow food and connect with nature in their own yard. Dave is an avid seed-saver and collector with extensive knowledge of plants and local ecology.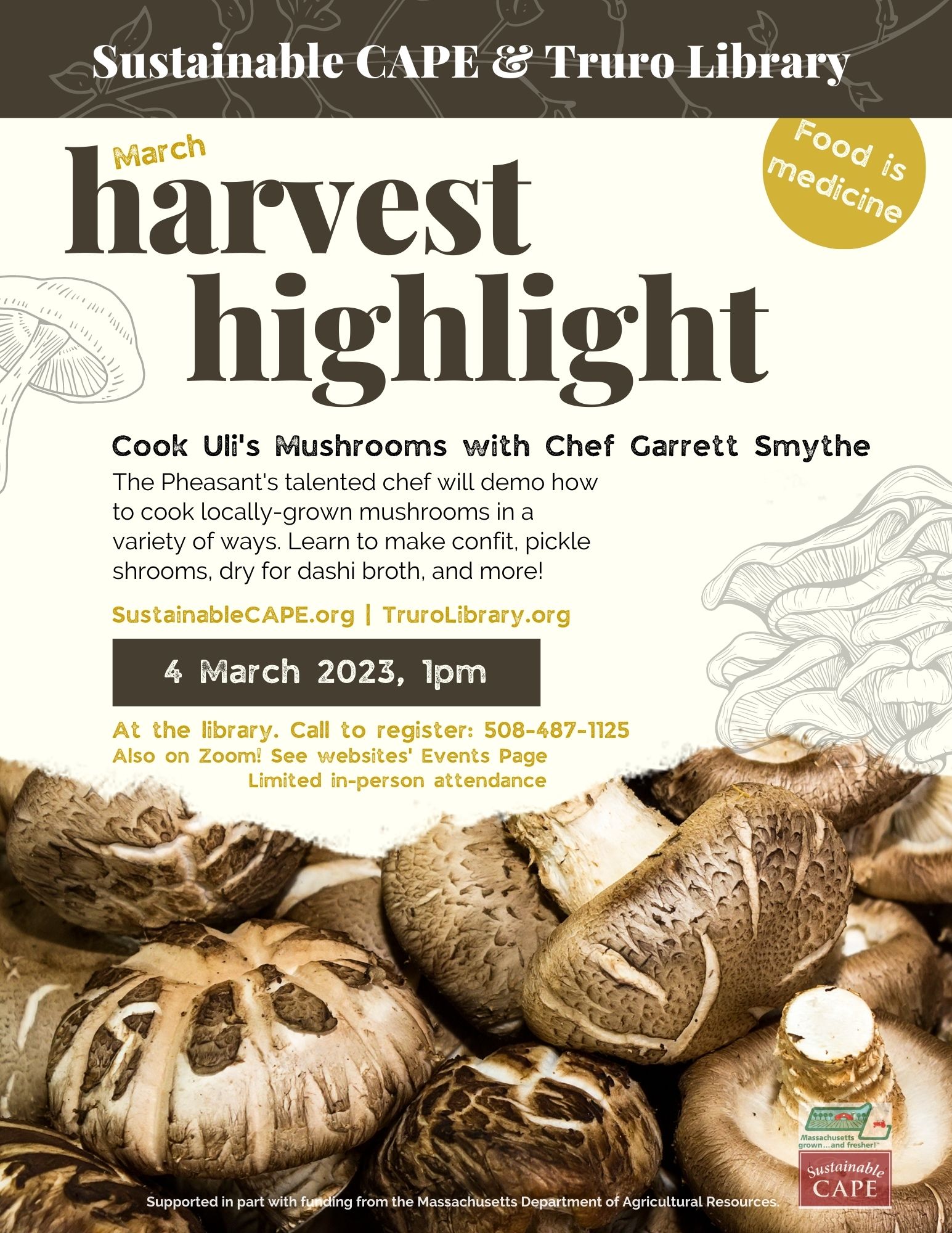 Cook Uli's Mushrooms with Chef Garrett Smythe
March 4, 2023, 1:00 PM, at the Truro Public Library
Interested in expanding and enhancing your culinary skills?  Like eating mushrooms but bored with how you prepare them?  Join us for a live cooking demo with The Pheasant's talented chef, Garrett Smythe. Chef will teach how to cook Uli's locally-grown mushrooms in a variety of ways.  Learn to make confit, pickle, dry shrooms for dashi broth, and more! 
OUR PRESENTER, Chef Garrett Smythe has spent the last two decades learning how to cook, starting in 2004 at The Wicked Oyster in Wellfleet. A wide variety of cooking experiences in San Francisco, Boston, and New York City have helped him develop a deep appreciation of the joys and difficulties of cooking seasonally and locally. He is now very pleased to call the beautiful landscapes of Cape Cod his home. After spending six years as the chef/co-owner of Sunbird Kitchen in Orleans, he is currently enjoying a new opportunity as the chef of The Pheasant in Dennis. When not working, he is usually spending time with his wife Chelsea, and three young children, Milo, Lennon, and Rose, or walking a trail in the woods with his dog Etta.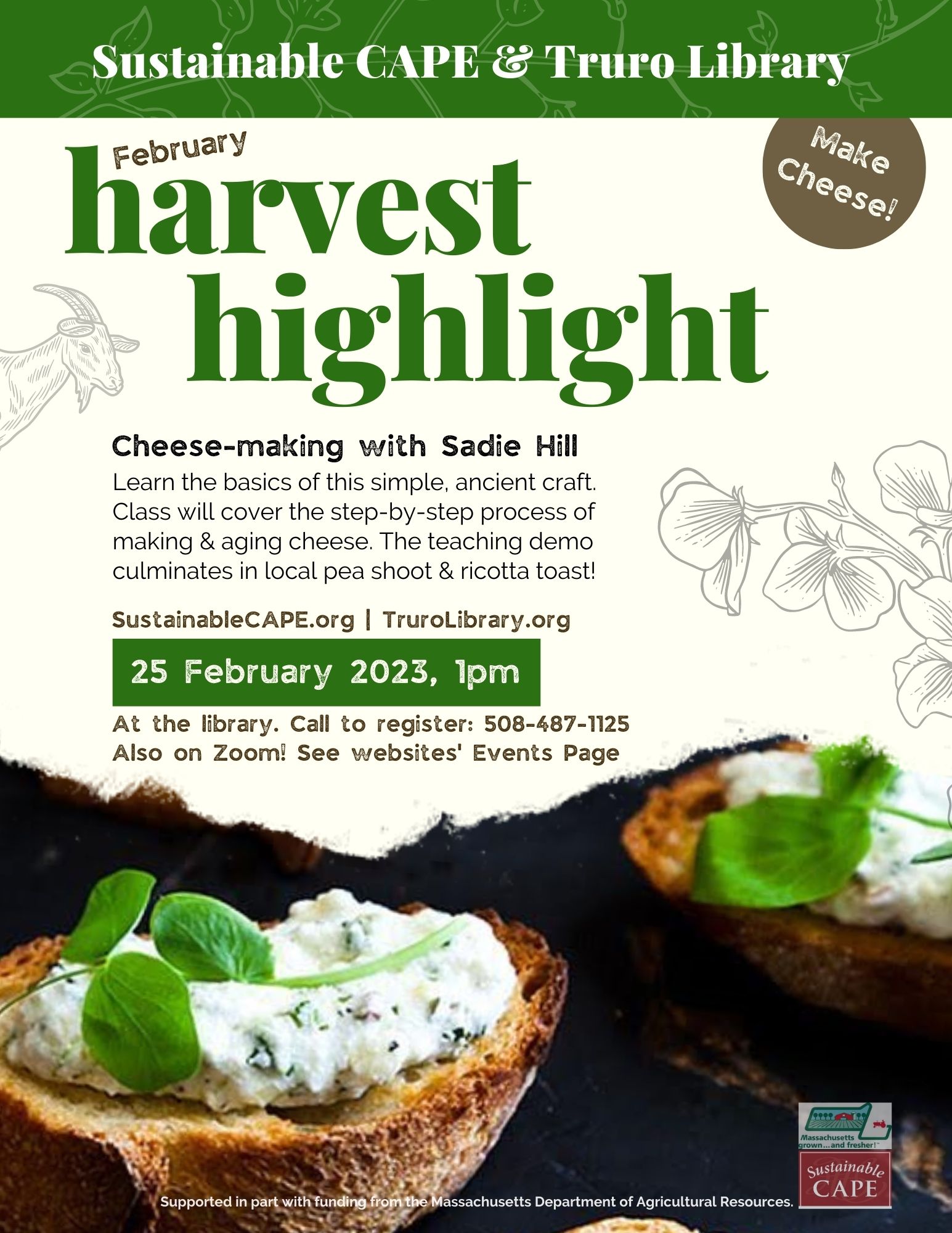 Cheese-Making with Sadie Hill
February 25, 2023, 1:00 PM, at the Truro Public Library
Are you interested in learning how to make cheese this winter?!  During class, local cheese-maker Sadie Hill will provide a discussion on the basics of cheese-making and give a live demonstration.  You'll learn where to source equipment and supplies, the importance of quality milk, the steps & preparations involved, and a ricotta & pea shoot toast recipe.  Don't miss out on learning an ancient craft and meeting a local maker.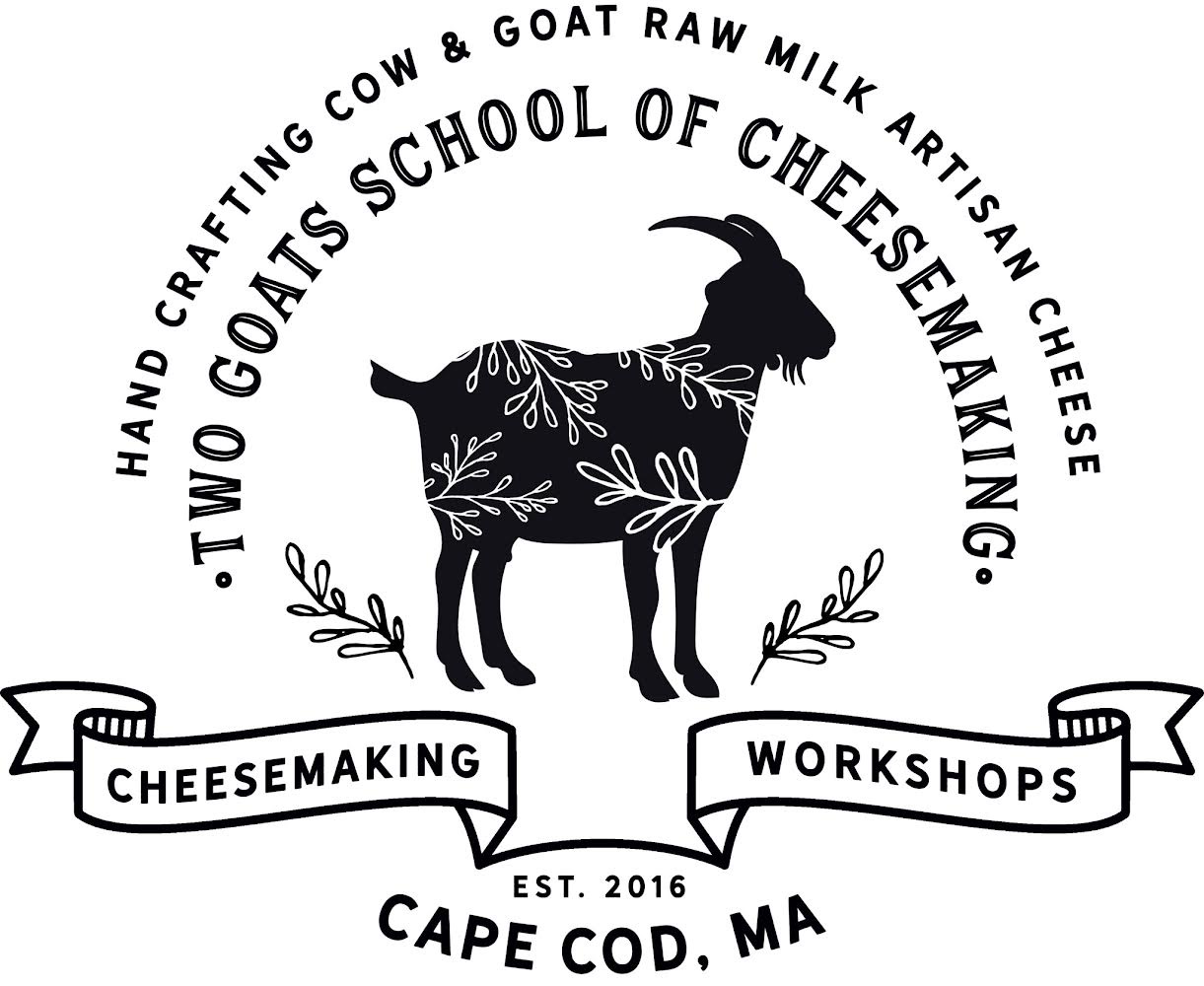 OUR PRESENTER, Sadie Hill is an artisan cheese-maker and educator living on Cape Cod.  After visiting New England farms in search of goats for her herd, she noticed that most farms were making cheese!  Feeling inspired, she became a full-time cheese-maker and goat mama.  In 2016, Sadie opened The Two Goats School of Cheesemaking with the belief that it's time to bring back the family cow and make cheeses in our kitchens!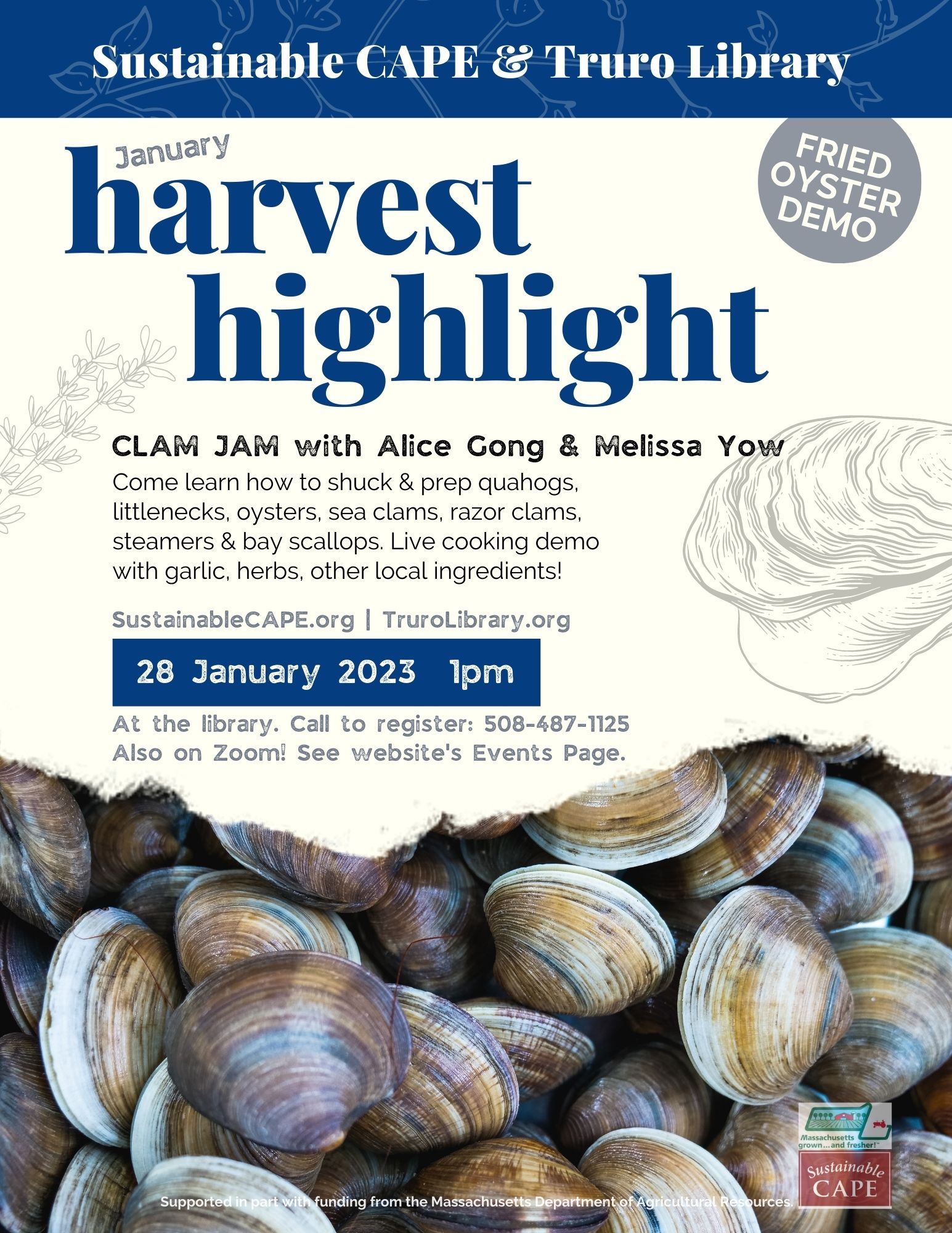 CLAM JAM with Alice Gong & Melissa Yow is back!
January 28, 2023, 1:00 PM, at the Truro Public Library
Come learn how to shuck and prep quahogs, littlenecks, oysters, sea clams, razor clams, steamers, and bay scallops.  Living shellfish fresh out of local waters will be there for you to see, touch, and learn how to open. Fried oysters and a delicious aioli made with local garlic will be prepared on the spot for everyone to taste & enjoy!   
OUR PRESENTERS: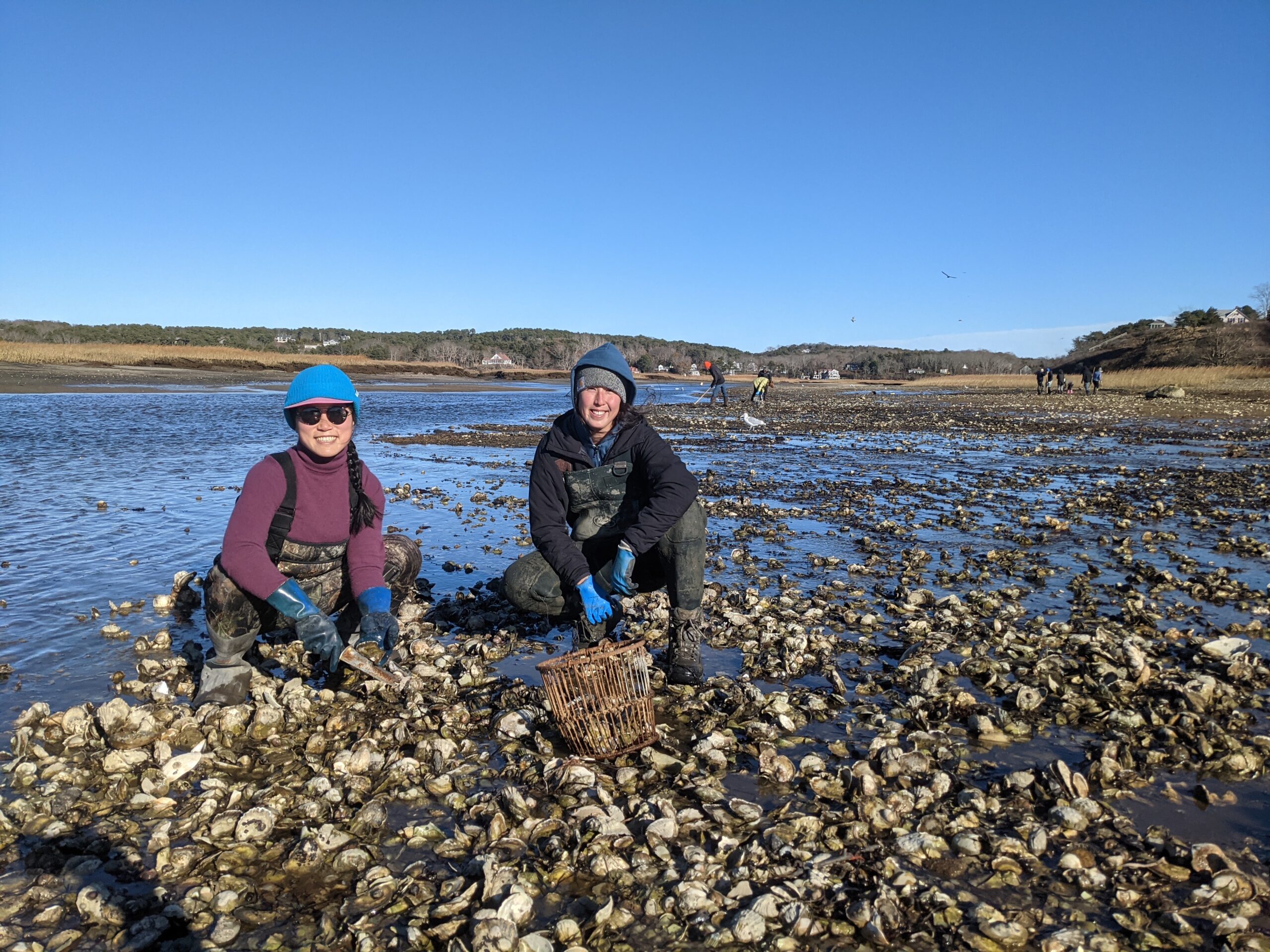 Melissa Yow grew up digging for clams and catching crabs around the salt marsh.  Somehow she never stopped, and continues to shellfish for a living in Wellfleet, both as a wild harvester & oyster farmer.
Alice Gong is a forager & chef with many unique talents.  She is the Program Director for Twenty Summers, sells at the Provincetown Farmers' Market, and organizes community volleyball.   Born in Beijing, Alice now resides in Truro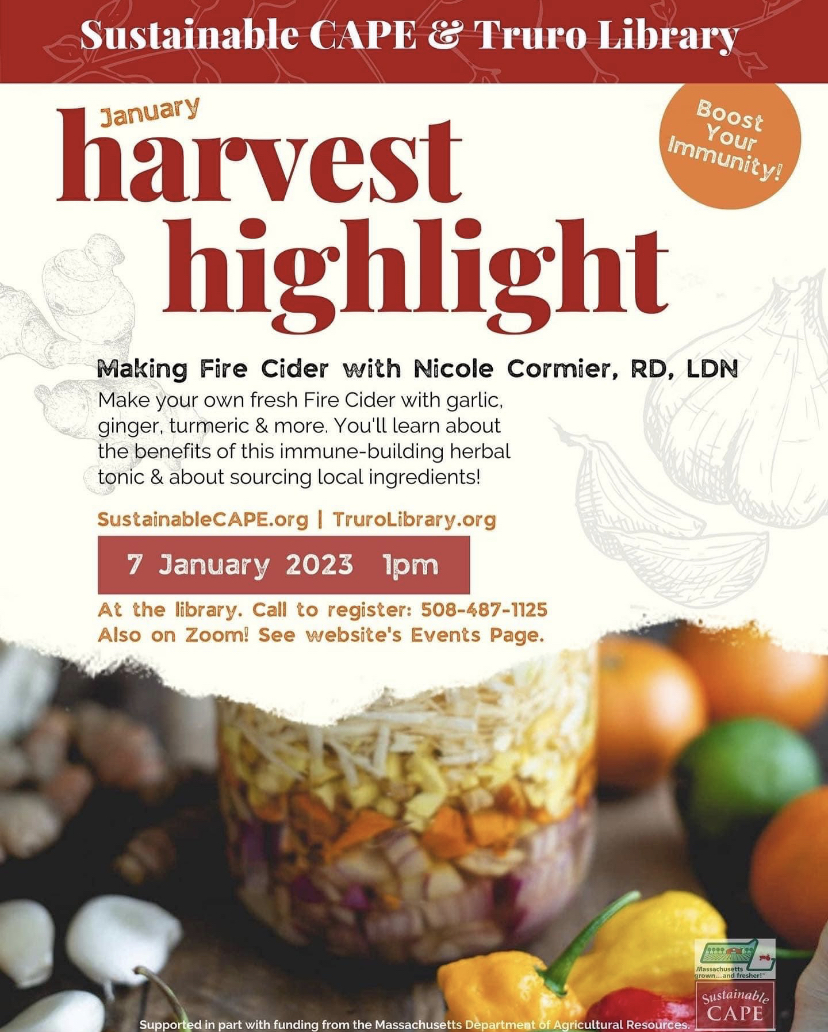 Making Fire Cider with Nicole Cormier, RD, LDN
January 7, 2023, 1:00 PM, at the Truro Public Library
PLEASE JOIN US for a fun, hands-on workshop where you'll learn to make your own fresh fire cider with garlic, ginger, turmeric, & more.  Registered Dietic Nutritionist Nicole Cormier will guide you in making your own batch, provide a variety of recipes, and teach about the history & health benefits of this immune-building herbal tonic.  She'll also recommend local sources to help you gather the most potent ingredients!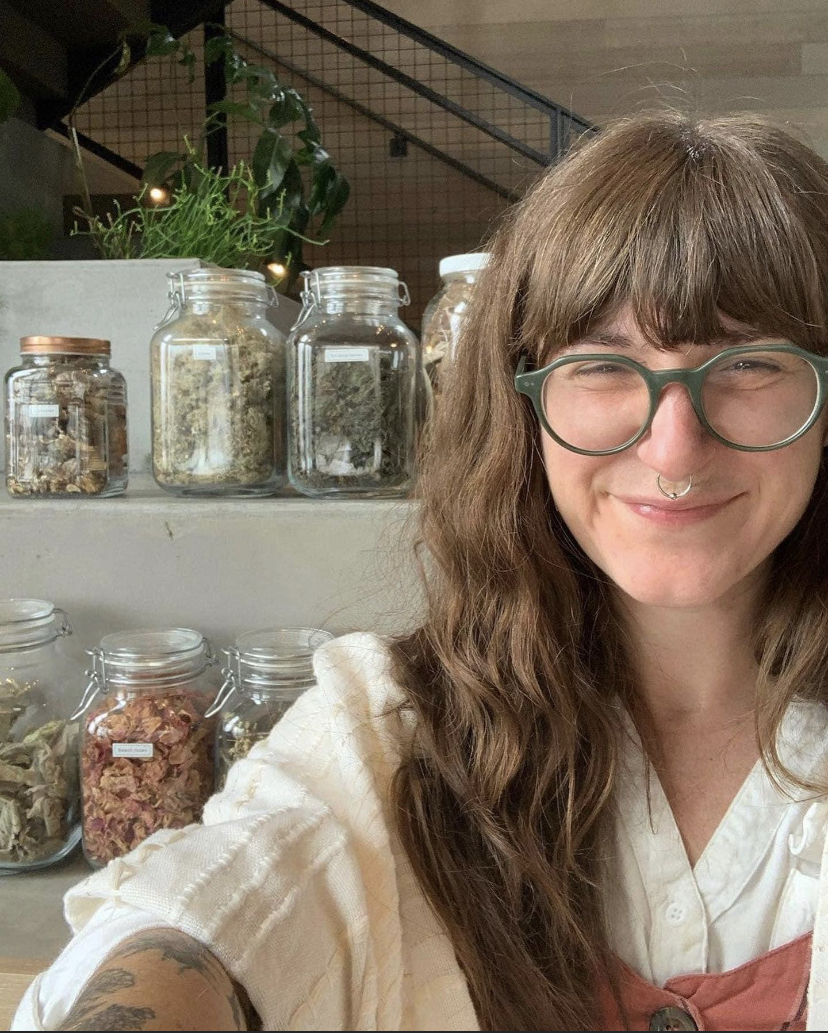 OUR PRESENTER, Nicole Cormier, is an anti-diet dietitian, local food enthusiast, author, and an intuitive eating nutrition therapist. She indulges her passion for nutrition and local foods on beautiful Cape Cod through her nutrition therapy practice, Delicious Living Nutrition, and through her work with Sustainable CAPE. She graduated from the University of Massachusetts and the Beth Israel Deaconess Dietetic Internship in 2006. She founded the DLN Dietetic Internship, welcoming its first class in January 2020 to focus on dietetics in agriculture.
This program is supported in part with funding from the Massachusetts Department of Agriculture Resources.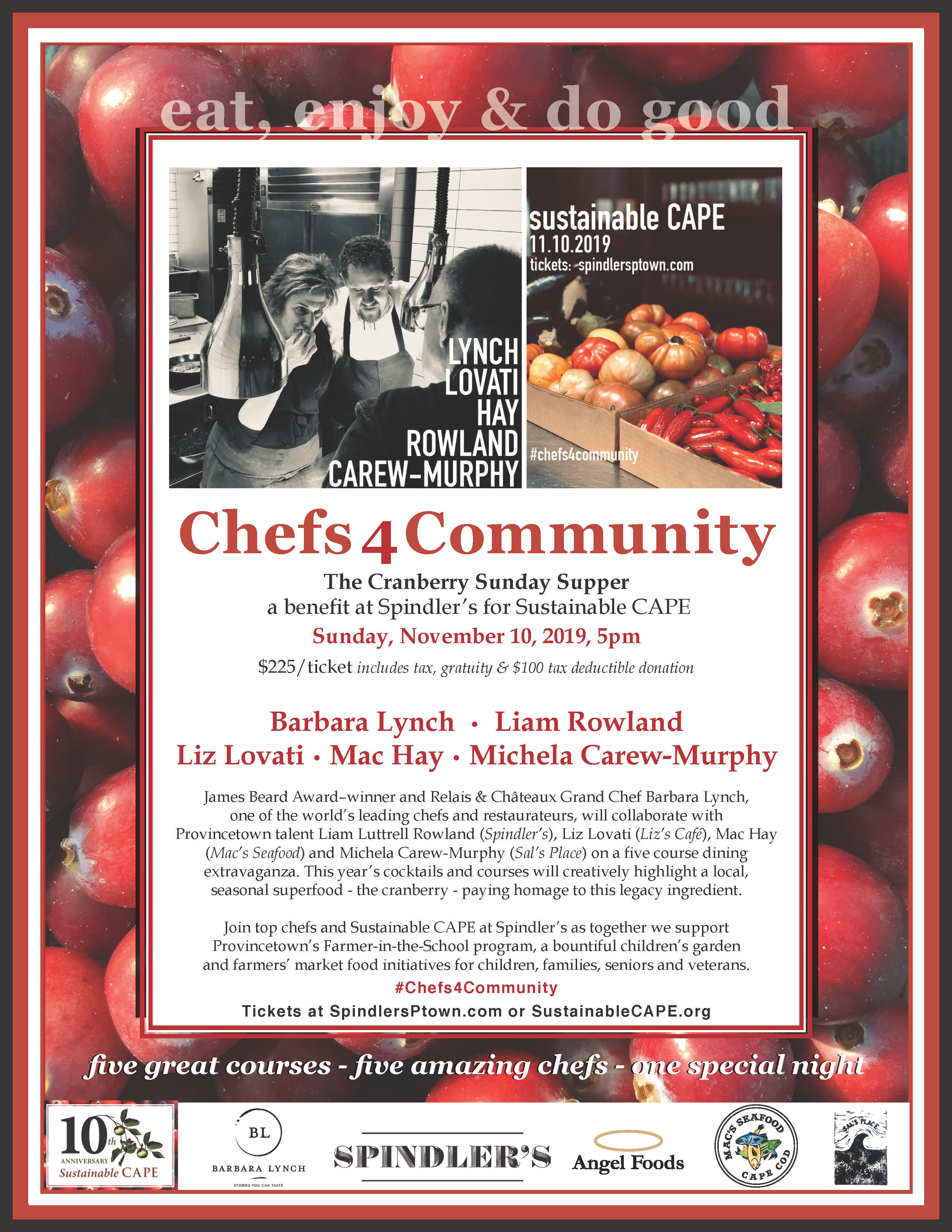 Chefs 4 Community
Sunday, November 10, 2019, 5:00 PM
The Cranberry Sunday Supper – a benefit at Spindler's for Sustainable CAPE
Barbara Lynch – Liam Rowland – Liz Lovati – Mac Hay – Michela Carew-Murphy
James Beard Award-winner and Relais & Chateaux Grand Chef Barbara Lynch, one of the world's leading chefs and restauranteurs, will collaborate with Provincetown talent Liam Luttrell Rowland (Spindlers), Liz Lovati (Liz's Cafe), Mac Hay (Mac's Seafood), Michaela Carew-Murphy (Sal's Place) on a five course dining extravaganza. This year's cocktails and courses will creatively highlight a local, seasonal superfood – the cranberry – paying homage to this legacy ingredient. Join top chefs and Sustainable CAPE at Spindler's as together we support Provincetown's Farmer-in-the-School program, a bountiful children's garden and farmers' market initiatives for children, families, seniors and veterans.